REIT Rankings Overview
In our "REIT Rankings" series, we introduce readers to one of the thirteen REIT sectors. We rank REITs within the sectors based on both common and unique valuation metrics, presenting investors with numerous options that fit their own investing style and risk/return objectives. We update these rankings every quarter with new developments for existing readers.
We encourage readers to follow our Seeking Alpha page (click "Follow" at the top) to continue to stay up to date on our REIT rankings, weekly recaps, and analysis on the REIT and broader real estate sector.
Industrial Sector Overview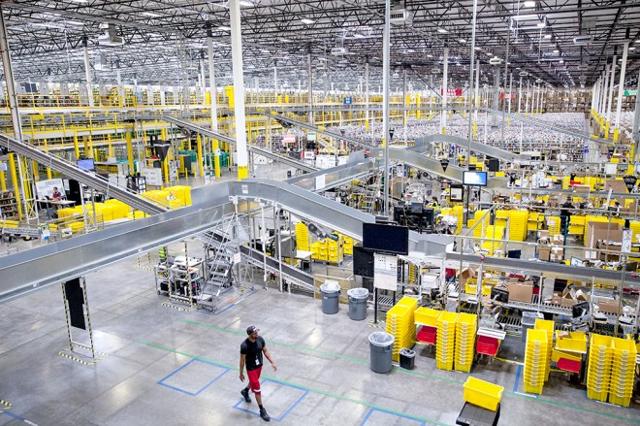 Click to enlarge
Industrial REITs comprise roughly 8% of the REIT Indexes (NYSEARCA:VNQ) and (IYR. Within our market value-weighted Industrial index, we track eight of the largest industrial REITs within the sector, which account for nearly $60 billion in market value: DCT Industrial (NYSE:DCT), Duke Realty (NYSE:DRE), Eastgroup Properties (NYSE:EGP), First Industrial (NYSE:FR), Prologis (NYSE:PLD), PS Business Parks (NYSE:PSB), and Stag Industrials (NYSE:STAG).

Click to enlarge
Above we show the size, geographical focus, and quality focus of the eight Industrial REITs we track. Quality is determined by the relative value of the underlying properties, which is largely a function of location near major e-commerce demand centers, notably on the costal cities which have high barriers to entry and longer permitting processes for new industrial assets.
Besides Amazon (NASDAQ:AMZN), industrial REITs are perhaps the best positioned to capitalize on the growth of e-commerce. E-commerce sales still represent just a small fraction of total retail sales, but roughly half of the incremental growth in retail sales over the past three years have come from e-commerce.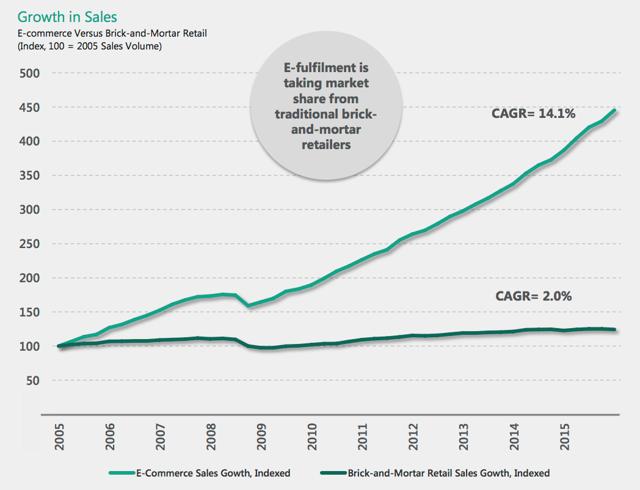 Click to enlarge
Prologis estimates that global e-commerce sales will double over the next five years, which will require quite a bit of additional warehouse space. E-commerce sales require roughly three times the amount of logistics space as traditional store-based retail as the warehouse itself becomes the hub for inventory, shipping, packing and returns.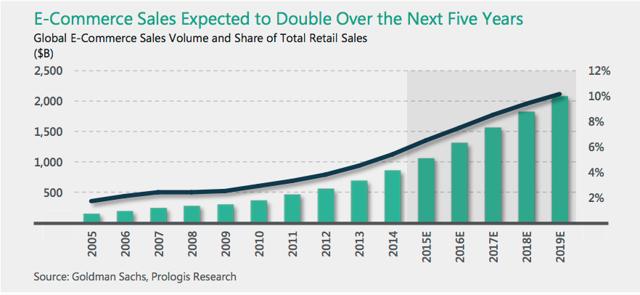 Click to enlarge
There are several distinctive features of the industrial REIT sector. Industrial assets are among the "simplest" of real estate construction projects requiring only 6-12 months to construct. A differentiating factor between industrial real estate assets are their proximity to major markets, ease of access to transportation, and the physical building construction: new assets have taller ceilings, wider spacing between columns, and more parking for trucks and employees.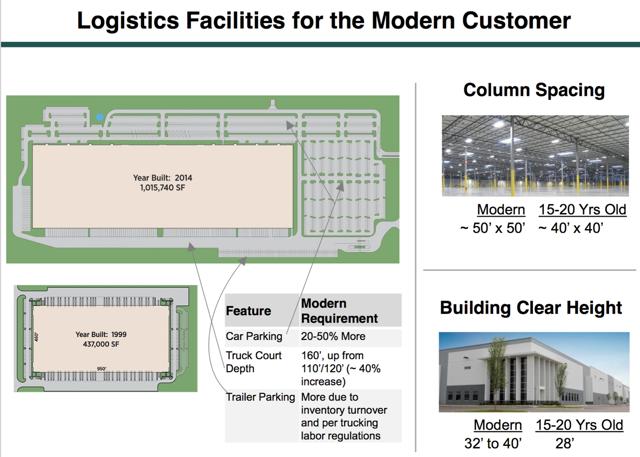 Click to enlarge
The fast construction time is both a blessing and a curse for the sector. On the negative, in low-barrier markets where land is abundant, builders can respond quickly to supply/demand imbalances which can quickly mitigate any effective rental growth. In higher-barrier markets where permitting takes months or years, this is less applicable. On the positive, builders are less prone to build "on spec" because potential demand (or lack thereof) is more easily foreseeable compared with office or residential properties with at least 12-24 months between permitting and delivery. As a result, occupancy and effective rental growth in the industrial sector tends to remain in a tighter range than other REIT sectors.
Industrial leases tend to be in the middle-range of REIT sectors with an average new lease term around 5 years. The total value of industrial real estate assets in the United States is roughly $1 trillion. REITs own just a tiny portion of this total, which leaves a large potential addressable market available for future acquisition-based growth. REITs pursue this strategy when they command a cost of capital advantage over the private markets, typically when credit conditions tighten and REITs are able to utilize their significantly stronger balance sheets relative to their non-REIT peers.
The economic variables that industrial REITs respond most favorably to are growing GDP, consumer spending (particularly online) and global trade. As we will see shortly, industrial REITs are among the least sensitive sectors to rising or falling interest rates. E-commerce growth has settled into a rather predictable 15% year over year growth since the recession.

Click to enlarge
Recent Developments and Performance
Industrial REITs have gained 1% over the past 13-week quarter, outpacing the broader REIT sector, which fell 5% during this period, weighted down by rising interest rates. Over the past year, industrial REITs have gained 24% after a disappointing performance in 2015.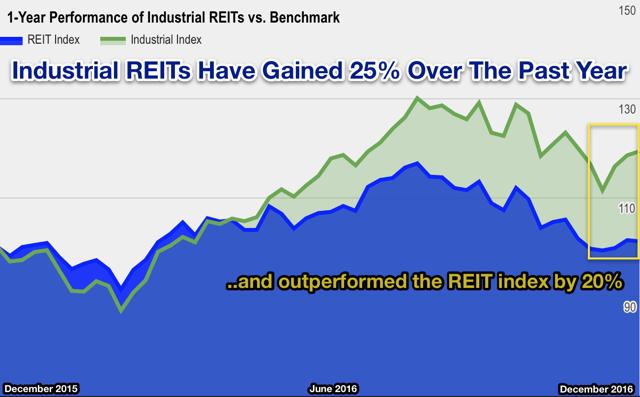 Click to enlarge
All eight REITs within the sector have gained between 20% and 30% over the past 52 weeks.

Click to enlarge
Q3 earnings were very strong. Of the eight industrial REITs, 6 beat expectations (PLD, DCT, DRE, FR, PSB, STAG) and 2 met expectations (EGP, LPT). 2016 and 2017 guidance was very positive as well. Of the six REITs that offered forward guidance, all six raised projections.
Prologis, the bellwether of the industrial REIT sector, grew cash earnings at a 15% annualized pace and achieved 24% higher releasing spreads. PLD expects growth to continue at a similar clip over the next three years, projecting 7-8% FFO (Funds from Operations) growth per year through 2019.
Between conference calls and the recent NAREIT conference, several key themes are being discussed. First and most importantly, demand continues to be robust. Same-store cash NOI growth across the sector was 7-8% YoY and occupancy topped 96%. With nearly full occupancy, REITs command significant pricing power to raise rents.
The development pipeline appears to be heating up mildly with several REITs continuing to plow ahead with development plans despite a less favorable cost of capital after the recent selloff. High construction costs and lack of available land have kept new supply in check. As we've pointed out, a major infrastructure spending plan at the federal level would be expected to increase construction costs even more and serve to further dampen potential new supply growth. Supply growth is expected to average just shy of 2% for 2016 and 2017 with much of the new supply growth coming from the REITs themselves. Supply growth of 1-2% per year are healthy levels and the expected demand growth should more than offset this increase in supply.
Brexit and the US election of Trump have been top-of-mind for industrial REIT executives. The populist wave that has swept the US and Europe presents risks to the continued growth in global trade, which, along with e-commerce, has been the fuel that has powered the continued strong performance from these companies. Industrial assets near major shipping ports are most at risk. The general sentiment is that these concerns appear unwarranted and the net result will be minimal.
In November, Prologis announced the development of the first multistory warehouse in the United States, which will be a three story structure built in Seattle. Industrial space near major US cities is extremely limited and in very high demand, so the advent of multistory warehouses could be a game-changer in many ways. That said, there are significant cost-challenges of multistory warehouses and PLD will use this project, which is expected to deliver in 2018, as a prototype going forward.
Below is our REIT Heat Map, showing the quarterly performance in relation to other sectors. As we mentioned, industrial REITs have outperformed the broader REIT index over the prior quarter. We also highlight the strength in the S&P 500 (NYSEARCA:SPY) and Russell 2000 (NYSEARCA:IWM).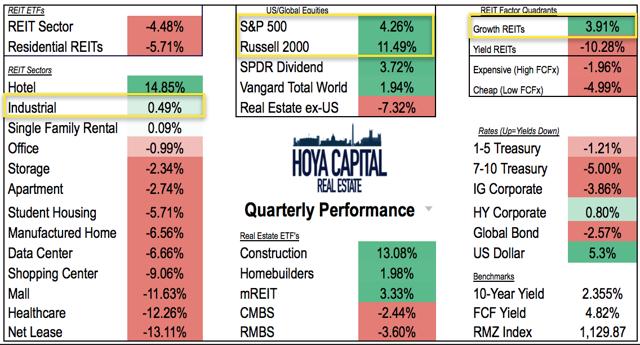 Click to enlarge
Valuation of Industrial REITs
Compared to the twelve other REIT sectors, industrial REITs currently appear expensive. Industrial REITs are the second most expensive sector based on both current Free Cash Flows and forward 2017 FCF.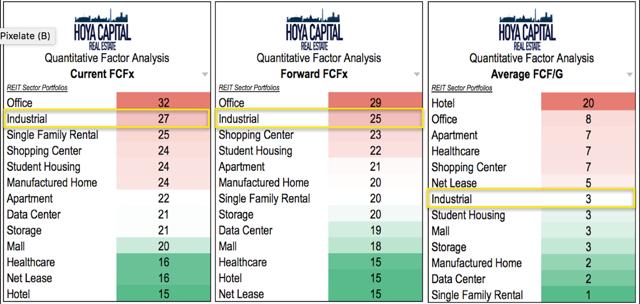 Click to enlarge
(Hoya Capital Real Estate estimates, Company Filings)
It's important to point out, though that industrial REITs have traded at premiums to the broader REIT market for the last seven years. The current premium (27 vs 23 current FCF) is not far out-of-line with recent averages, but we do believe that continued upside is likely limited given the extended valuations. In hindsight, the dip to 20x FCF in late 2015 was a significant buying opportunity.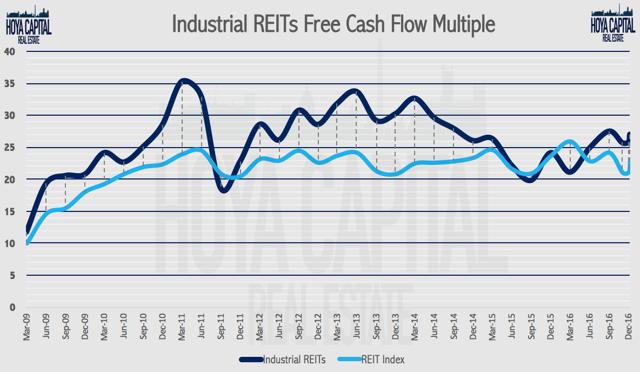 Click to enlarge
When we factor in two-year growth expectations, the sector appears more attractive. We use a modified PEG ratio, using the forward FCF multiple divided by the expected 2-year growth rate which we call FCFG. Based on FCFG, industrial REITs are the seventh most attractive REIT sector. Expected to grow FCF at 10% over the next two years, industrial REITs are among the fastest growing REIT sectors, well above the REIT average of 7%.
Within the sector, we can see how the e-commerce focused REITs (DCT, DRE and PLD) are trading at premiums to the sector. EGP, STAG, and LPT appear to be on-sale, but investors are not fully capturing the e-commerce exposure with these names.

Click to enlarge
Dividend Yield and Payout Ratio
Based on dividend yield, industrial REITs rank towards the bottom, paying an average yield of 3.4%. Industrial REITs payout almost 90% of their available cash flow, the highest payout ratio of any REIT sector. This high payout ratio may limit the flexibility of these REITs to increase dividends or take advantage of additional development opportunities without increasing debt levels. That said, the balance sheets of these eight industrial REITs is strong and we are not overly concerned with the high payout ratio.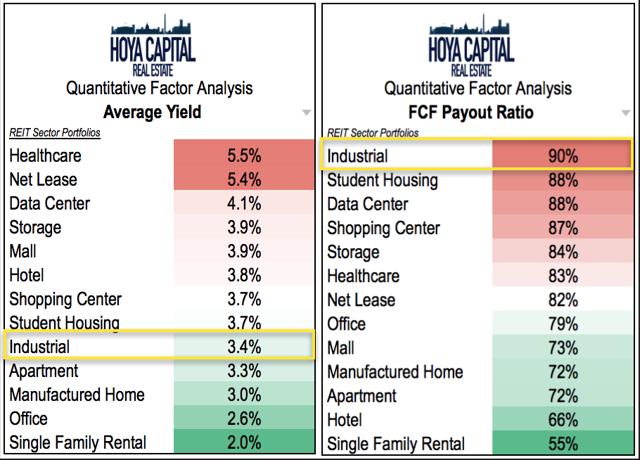 Click to enlarge
Within the sector, we note the varying strategies of the eight REITs. STAG and LPT command the highest dividend yields, but its important to see how they do it. LPT pays out over 100% of available cash flow, while STAG pays out 94%. Investors should expect more limited dividend growth potential from REITs that payout excessive amounts of available cash flows. For investors seeking yield and dividend growth, we see EGP as a more attractive option.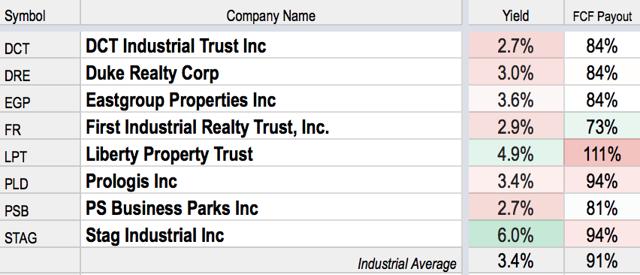 Click to enlarge
Sensitivities to Equities and Interest Rates
Followers of our research know that we put a lot of emphasis on factor analysis, specifically looking at how REITs have historically responded to changes in the broader equities market, interest rates, and to movements in the REIT index itself. We believe it is critical that investors understand how their investments will respond in different economic environments.
Using our Beta calculations, we show that industrial REITs are not highly sensitive to interest rates, and respond more closely to movements in the equity markets. As a sector, industrial REITs fall under our "Growth REIT" category and should be used by investors seeking longer-term dividend growth rather than immediate income.
For more detail on these calculations, we highlighted the dynamics of bond-like and equity-like REITs in our previous articles,"Are REITs Bond Substitutes" and"REITs Without Interest Rate Risk."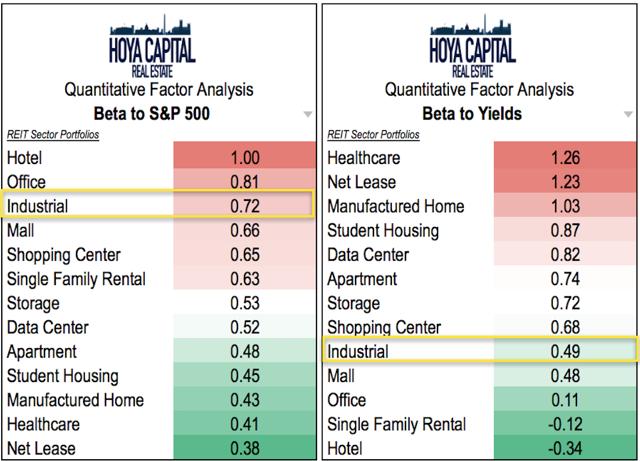 Click to enlarge
Within the sector, we note that there are several REITs that do, in fact, exhibit heighten levels of interest rate sensitivity. As expected, LPT, which employees a strategy of paying a higher yield by paying out over 100% of its current cash flow, is more interest-rate-sensitive than its counterparts.
Prologis stands out for its very low sensitivity to changes in the 10-year yield and is among the most "equity-like" REIT we track. Prologis owns a substantial international portfolio that accounts for almost one-third of its cash flow. We highlighted in a previous article that investors can effectively hedge the interest rate sensitivity of their REIT portfolio by investing in international real estate. Click to read:"International Real Estate: REIT Investors Can Avoid 'Home Country Bias." We see this effect quite clearly in the case of Prologis.

Click to enlarge
Bottom Line
Industrial REITs have been on a tear this year. The strong 24% gain over the past 52 weeks has been driven by the relentless demand for e-commerce warehouse space. Besides Amazon, industrial REITs are the best positioned industry to capitalize on the growth of e-commerce. Currently, though, valuations do appear extended and it is difficult to see how the e-commerce focused REITs like DCT, DRE, and PLD extend their FCF multiples much higher. While the mid-term growth expectations are second only to data centers, we think these industrial REITs are likely to take a breather before marching higher.
Industrial REITs have several appealing properties that could make them good long-term additions to a portfolio. Their focus on e-commerce provides an excellent growth opportunity and a hedge against weakness in brick-and-mortar retail sales growth. Industrial REITs have relatively low sensitivities to interest rates, providing downside protection if rates should increase faster than economic growth. Finally, particularly with Prologis, industrial REITs add international exposure and are leveraged with growth in global trade, a characteristic shared by few other REIT sectors.
Please add your comments if you have additional insight or opinions. Again, we encourage readers to follow our Seeking Alpha page (click "Follow" at the top) and check out our other recent REIT Rankings: Healthcare, Net Lease, Data Centers, and Apartments.
Disclosure: I am/we are long PLD.
I wrote this article myself, and it expresses my own opinions. I am not receiving compensation for it (other than from Seeking Alpha). I have no business relationship with any company whose stock is mentioned in this article.
Additional disclosure: All of our research is for educational purpose only, always provided free of charge exclusively on Seeking Alpha. Recommendations and commentary are purely theoretical and not intended as investment advice. Information presented is believed to be factual and up-to-date, but we do not guarantee its accuracy and it should not be regarded as a complete analysis of the subjects discussed. For investment advice, consult your financial advisor.